Problem Identification
The United States has lost sight of the importance of water sustainability leading to water scarcity, water pollution, and an estimated $1 Trillion needed to improve our aging water infrastructure.  We believe a major factor of these problems are derived from people's lack of understanding and appreciation for their public water system.
Theory of Change
In order to initiate the revaluation of local water, people need to connect to the information and products that support their public drinking water system.  If we increase awareness and access to local drinking water, we trust that communities will identify their unique needs and take the necessary steps to assure a more sustainable local water system.
Matt Thomas
Founder & President of BeCause Water Benefit Corp
In my quest to find a fulfilling career path, I was fortunate enough to have been connected to the power of water.  I discovered the fact that 1 in 9 people in the world lack access to clean water and wanted to be part of the solution.  My original idea was to start a bottled water company that would send a portion of proceeds to developing countries with inadequate access to clean drinking water.  However, I quickly became aware that the bottled water industry was contributing to environmental degradation of our planet, wasting precious resources, and that their product was generally less regulated than what comes out of our tap.  My realization that my perception of clean, sustainable water was far skewed from the truth, brought me to the conclusion that there was a significant public void in knowledge and appreciation for water sustainability.  My mission was and still is to develop a community-based enterprise that helps cities, schools, and corporations reconnect to the value of water.
Our mission is to reconnect communities to local drinking water.
---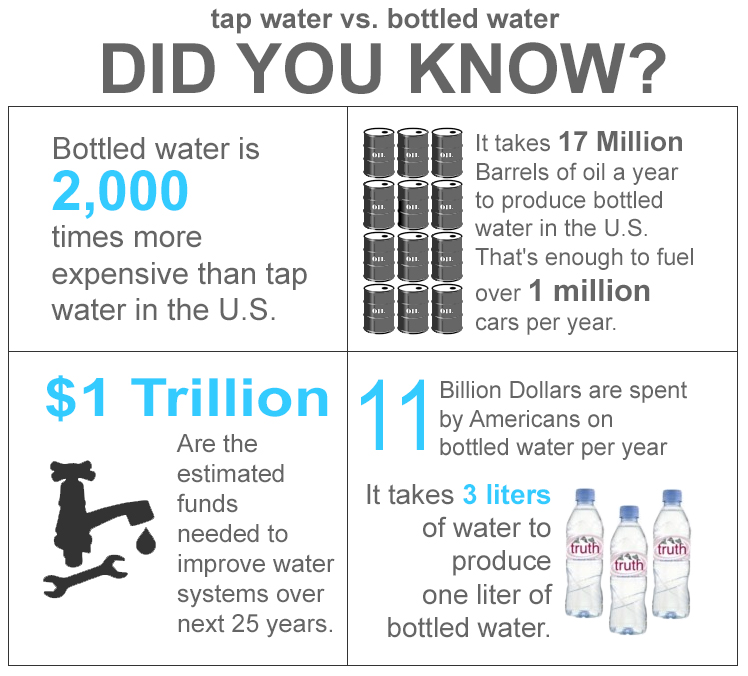 Sensible, sustainable, and healthy ways to drink more water.
because water partners with leading drinking fountain manufacturers to provide you with advisory services, fulfillment, and installation.  In our journey in becoming a trusted resource, we realize we can ONLY put our name behind products with integrity.
---
Specialty Glass Bottles
Honestly, is there anything better than drinking from glass?  These aesthetically appealing bottles hold both HOT & COLD liquids making the container ideal for maintaining the temperature of cold water, coffee, tea, and juice.  Glass is commonly regarded as the most eco-friendly option and holds the taste of liquid better than any other material.  BeCause Water supplies and brands specialty glass bottles at a minimum order quantity of 250 bottles.
Learn More
Stainless Steel Bottles
An ideal option for hydration on the go, stainless steel bottles provide a durable and eco-friendly option.  Bring them to school, work, camping, exercising and everywhere else between.  BeCause Water supplies and brands specialty BPA-Free stainless steel bottles at a minimum order quantity of 100 bottles.
Learn More
WaterWheels
Looking for an alternative to bottled water at your event?  WaterWheels is a mobile drinking fountain that disperses tap water through four bubbler fountains and two gooseneck spouts.  Oh yah, did we mention that WaterWheels is a trike?   We currently serve events in the Metro Boston area.  Contact us if you're looking for an eco-friendly alternative to bottled water that will be sure to catch the attention of your attendees.
Learn More
---
Drop In
There are no words to express how thrilled we are for the anticipated release of our mobile app that will forever change the way you drink water on the go.  The next time you're thirsty and on the go, there's NO NEED to purchase bottled water.  Simply "Drop In" to one of our partnering local businesses for a cold cup of h2o by refilling your reusable bottle or using the cups available at the "Drop" access partner.  We're currently beta-testing both iOS and Android versions of our app.  Contact us to be one of the first to join our community of Early Adopters.
Learn More
Let's make your community smarter, healthier, and more economically resilient.
Government
Why work with us?  
As Benefit Corporation, it is our duty to create social and environmental impact.  Hiring us over the status quo contractor ensures your initiative will be recognized by your community long after the initial implementation.
Sustainability Leaders
Why work with us?  
If making your community healthier and greener through water access sounds like it could align with your mission, then we may be able to help.
Students
Why partner with us? 
because water originally started from the perspective of a student.  For that reason, the heart of our solutions serve the student activist.  We realize how funding and time are likely scarce resources.  Our staff consists of former and current student organization presidents, student government representatives, and other social impact enthusiasts who's job is to ensure your campaign creates a tidal wave of change.
From fundraising support to a tremendous source of knowledge and inspiration, the BeCause Water team has been a truly awesome resource for Global Water Brigades at Boston University.  They have played a huge role in the success of our group over the past year and we look forward to working with them more in the future.
Audrey Hertenstein
Our team specializes in drinking water access projects in schools, parks, offices, and health & wellness facilities.  Our services address your top needs.
---
Campaign Design
Assessment of your community's water awareness, accessibility, and engagement levels to design an execution plan that aligns with your mission.
Student Engagement
Use the power of community-based initiative to accelerate the demand for water sustainability solutions.
Product Implementation
Sales, Fulfillment, and optional installation services to streamline your project and save you time.
Analysis & Reporting
Use our "Sustainability Impact Widget" to show your website visitors the real-time impact of your initiative.
Marketing & PR
Give your campaign the media coverage it deserves.
Fundraising
Crowdfunding, grant proposals, and third-party sponsorship to fund your campaign.