After approaching his administration about installing Bottle Filling Stations at Loveland High, Mike Fackler was told the school did not have the financial means necessary to fund the project. That didn't stop him..
While the Pacific Gyre, a massive gathering of micro-plastic waste, continues to wreak havoc in our oceans, the pressure from environmentalists, researchers, and activists is finally starting to make an impact.
The awareness for waste reduction has swept the country and college and high school campuses are leading the charge — advocating change with plastic bottle bans, awareness campaigns, and infrastructure revamping.
Mike Fackler of Loveland, Ohio is a rising college freshman who recognized the need for change in his own community. Serving as the Student Sustainability Coordinator for the Loveland City School District, it was brought to Mike's attention that a majority of individuals within his school were still relying on single serve plastic water bottles. Conscious of impact that plastic bottles have on our planet, Mike sought to present alternative options to his peers.
As early as his sophomore year of high school, Mike knew that he wanted to install bottle filling stations on his campus. He informed us that "bottle filling stations were the most appealing option for starting a sustainability movement due to their convenience in refilling reusable bottles, and their utilization of filtered tap water."
The bottle filling station solution not only reduces plastic waste, but also presents a safe way to consume Loveland's tap water.
Once the decision was made that Mike wanted to install bottle filling stations, he presented the idea to his district administrators. They were extremely enthusiastic about Mike's student-led project. Unfortunately, their enthusiasm did not match their ability for complete financial support. Mike was left with the responsibility to fund his project. It was at this point that BeCause Water Benefit Corporation of Boston, Massachusetts stepped provided Mike with tangible solutions at a discounted price.
Mike applied to the Hamilton County Recycling and Solid Waste District for a grant. Competing against nine other schools, Mike's grant proposal was deemed the winner and the Loveland Schools were awarded a windfall of $9,200.
Cher Mohring, a program specialist at Hamilton County Recycling and Solid Waste District, told us that Mike's grant proposal was appealing because it would impact an entire school district and promoted significant waste reduction.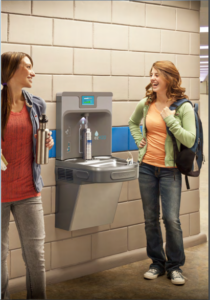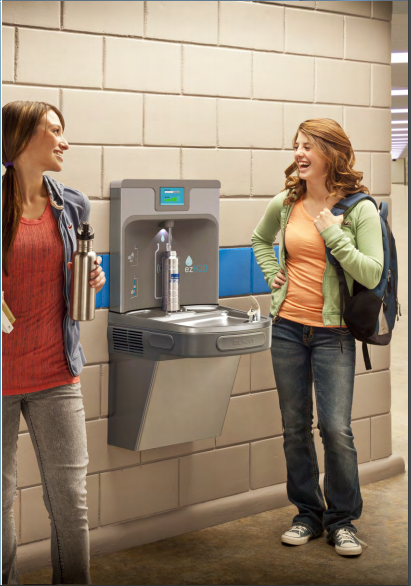 The grant money provided Mike with the opportunity to purchase five Elkay bottle filling stations and 107 reusable water bottles from BeCause Water.
When the project reaches its completion, there will be one bottle filling station installed in each of the five schools within the Loveland City School District. This project has paved the way for students of all ages to make an impact on the environment and their own health for years to come.
According to BeCause Water Benefit Corp, each Bottle Filling Station at Loveland High is expected to save at least 10,000 plastic bottles from waste, resulting in a net impact of 74,968 Liters of Water and 8,718,454 grams of CO2 saved.
In addition to the physical conservation, the bottle filling stations will serve as an educational experience that disrupts wasteful habits, and encourages students to continue their impact beyond their campus.
Mike hopes to continue his "zero waste" movement. Whether that's at Loveland High School or his future school, The Ohio State University, he intends to change the culture of his fellow students and foster an ecofriendly mindset around campus.
For those looking to follow in Mike's sustainability footsteps, he encourages people to "jump right in" and "follow whatever you set your mind to." Though it was initially daunting to take on such a project, Mike states, "working with BeCause Water was an overall great experience" that motivated him to triumphantly reach his goals. He hopes that in accomplishing this project, it will inspire others to take action for waste reduction and sustainability in their own communities.
For more information about Loveland's impact, you can contact Mike Fackler directly here.
To learn more about bottle filling stations and other sustainable solutions, please visit BeCause Water Benefit Corp at becausewater.com